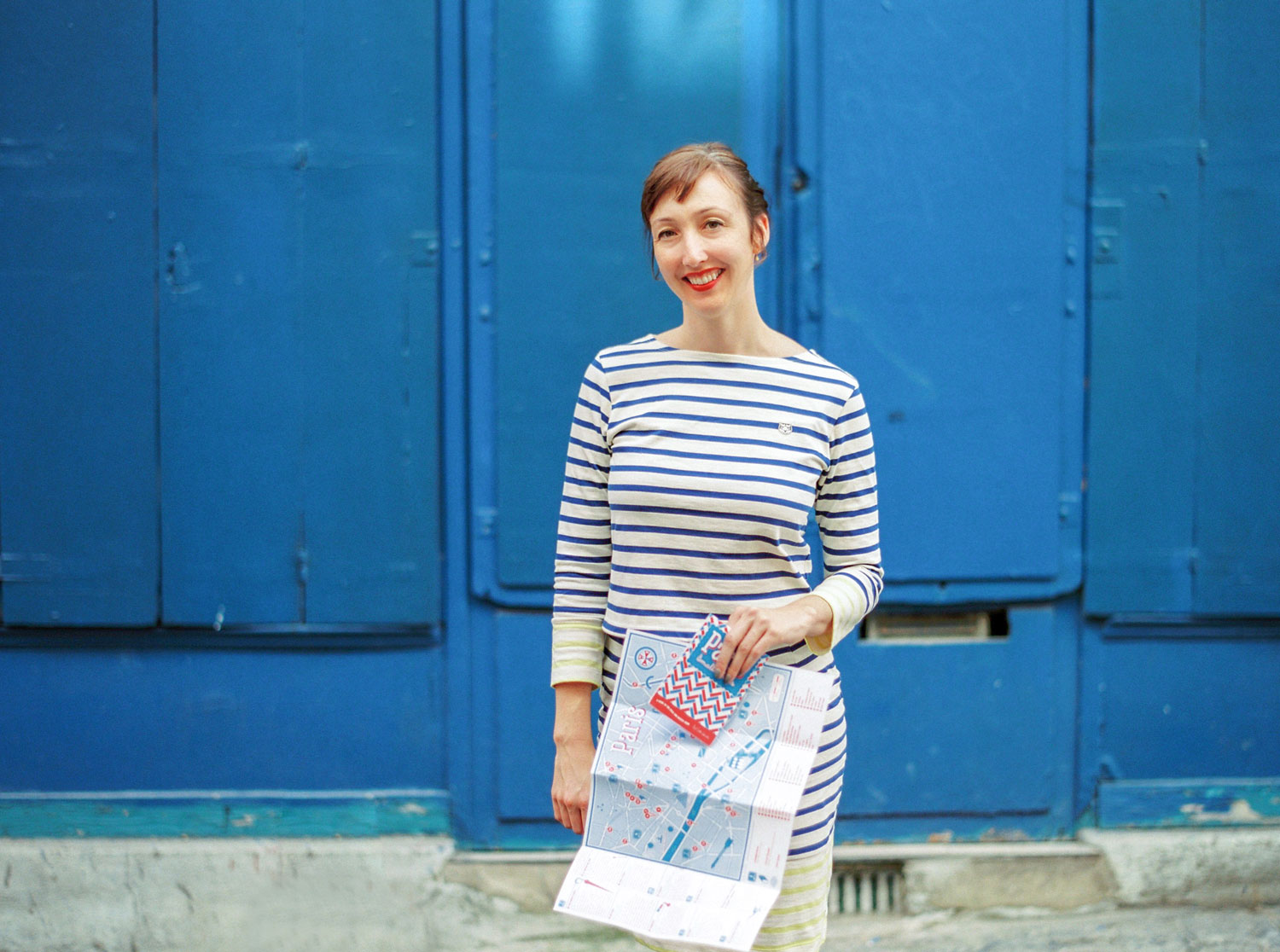 I'm a creative problem solver. I'm also a designer who writes and travels, and a creative coach and consultant. I don't do things by the book, but I do draw from a diverse set of tools to think creatively. Guided by curiosity, I'm passionate about working with others to support them in their journey to make their ideas happen.
Email me! ✉️ hello@anneditmeyer.com
The short story.
Hi! I'm Anne Ditmeyer. I'm American by birth and French by hard work. I've been living in Paris since 2009, and running my own business since 2011. A woman who wears many hats, some may call me a "slasher" – designer/writer/traveler/consultant/coach. Others would say I have a portfolio career. You could also call me a multi-passionate entrepreneur. I'm not afraid to write my own rules.
Living in France introduced a lot of "creative constraints" that forced me to think differently about my approach to business. It wasn't always sunshine and roses along the way, but somehow I managed to create a life I love. Even with years of professional experience and two masters degrees, it's my blog, Prêt a Voyager (translation: ready to travel; mantra: travel is not where you go, but how you see the world), that I founded in 2007 that remains my best business card to this day. Because of it, I haven't applied for a job in 10+ years.
In an internet rich world, in search of human connection, I translated my blog into tours, a Navigate Paris online experience, and deep dive days (coaching + tour) in Paris, where I give people the confidence to explore, and get lost.
I've worked with incredible clients around the world including Moët Hennessy, Louis Vuitton, Airbnb, IDEO, SignSalad, The American University of Paris, Parsons Paris, Design*Sponge, and mentored during the Adobe Creative Residency. No two projects are ever the same. One day I may be extracting UX insights from global user research, and another writing a storyboard for a video script, presenting a workshop on storytelling, interviewing someone doing inspiring work, or giving a tour of Paris to a team of designers.
Some of my greatest joy comes from working with coaching clients where I get to combine all my interests and expertise to propel them forward in whatever they may be doing. I've worked with established illustrators, creatives with too many ideas, career changers, and people who feel stuck. If there's anything I've learned in my own work is that sometimes you just need that outside perspective to help provide the boost you need to get you where you want to be.
My love of learning has translated into teaching everything from map making to résumé redesign, InDesign, communicating your ideas through design and storytelling, the designer/entrepreneur, UX design, and more. So much of my journey has involved learning the hard way, which is why I'm passionate about sharing my experiences with others.
My hope is that I can help others along their journey. The journey is the destination.
Fun facts.
I've lived in 5 U.S. states, 2 countries, and on a ship around the world. I try to visit a country for every year old I am, but I've fallen behind.

A friend put it best when she said, "You love France, but you really love a challenge." Bureaucracy inspired—or perhaps forced—me to be creative.

I became French by starting my own business. I now have 2 passports. It's the mundane moments of travel that get me most excited.

The movie "Amélie" came out the year I studied abroad. Ever since, I've had a thing for garden gnomes and integrate them into projects when I can. They bring a touch of fun when things get serious.

I was a coxswain in college. On the men's team. (I'm a very tall coxswain.) I was also a rower. I can row both sides.

I was an extra on episode 1 of "The Little Paris Kitchen". I also was an extra in the Pierce Brosnan/Emma Thompson movie "The Love Punch" but I got cut. I love getting to see behind the scenes on creative endeavors.

I've visited all the public pools in Paris. I'm also in a book about swimming pools! It's called The Joy of Swimming.

When you take hip hop classes in French you can blame not knowing the moves on the language barrier.

I was an excellent student but I sucked at standardized tests. I think I turned out OK. It's what inspires me to keep thinking differently about what "work" is.

I've worked many odd jobs in my life including lifeguard, swim coach, catering, nanny, assistant wedding photographer, dressing as a costumed character. I learned skills that I still apply to my work to this day.
✈ Places I've been ✈
US (47 of 50 states) / Canada / UK / Bahamas / France / Spain / Czech Republic / Hungary / Italy / Switzerland / Cuba / Brazil / South Africa / Mauritius / India / Singapore / Vietnam / Hong Kong/ China / Japan / Egypt / Cameroon / The Netherlands / Germany / Cyprus / Iceland / Cambodia / Thailand / Panama / Morocco / Denmark / Belgium / Norway / Portugal / Sweden / Latvia
The long story.
(Because it comes up a lot.)
Hello again! I'm Anne Ditmeyer. I'm American by birth and French by hard work. I've been living in Paris on and off since 2001, and running my own business since 2011. I have a background in art history, anthropology, graphic design, and global communications. I never thought I'd get any masters degrees, but then I got two! One thing is for sure, running a business is not something they teach you in school. That's why I like to share my experiences — aka learning the hard way — in hopes that I can help others along their journey.
My love of travel is something that I was born with, following the footsteps of my parents who traveled the world alone before getting married. Growing up, most of my travels were stateside, where the four of us (and the dog) moved across country a couple times. I've lived in Virginia, Minnesota, Kansas, Idaho, and Maryland. Along the way, I've seen 46 of 50 U.S. states. Not bad for a girl who's been living abroad for 10 years!
THE WORLD IS MY CLASSROOM
My first trip to Paris happened when I was 17 years old and a junior in high school. It was a family trip and we stayed with friends of my parents. It was daily life that inspired me most that trip, far more than the grand monuments.
I returned in 2001 to study abroad where I learned the city is my classroom. My classes met in my professors' homes—an art critic, a photographer's studio—where we'd meet and discuss a topic before venturing to see it with our own eyes. I even had a class that met in the Louvre every Wednesday, but even after 3.5 months, I still didn't see it all!
The following spring I set off on another grand adventure, but this time on a ship around the world with 500 students on Semester at Sea. We started in the Bahamas before visiting, Cuba, Brazil, South Africa, Mauritius, India, Singapore, Vietnam, Hong Kong, China, Japan, and finally Seattle. This journey around the world taught me that you can't help but learn when you travel—not only about the world, and how other people live, but also about yourself.
Upon returning to the US, I graduated from the University of Virginia with a BA in art history and anthropology. After graduating, I returned to Paris in 2003 to teach English in a French high school for a year. I worked 12 hours a week and had 2 weeks of vacation every six months. France was onto something. I didn't make a lot of money that year, but I sure was rich on experience.
Design AS A TOOL FOR EXPLORATION
Upon my return, I moved to Baltimore, Maryland for a Masters in Publications Design (graphic design) at the University of Baltimore. I worked full-time, first at a regional theater, and then at an architecture firm, while going to school at night and weekends, and taking continuing education courses at MICA. I learned that design is a window to the world, where I'm fortunate to learn about many different industries through it.
During that time, I started my blog Prêt à Voyager. Blogging was in a very different place in 2007. I blogged daily about anything that involved the intersection of travel and design, and often Paris. I soon became the first intern at Design*Sponge, segueing to be a contributing editor who wrote 500+ posts over 6+ years.
I can't help but think that blogging helped plant the seed to return to Paris (and later make incredible connections in Paris, and beyond). A bit naive to think I could find a job in Paris (that would also sponsor my papers), I found a Masters in Global Communications at the American University of Paris that was the perfect fit. It allowed me to pull in my interest in travel and background in anthropology, and weave it into the work and experience I now have.
I entered the program thinking I'd complete it with the internship requirement. Instead I opted to write a thesis instead, exploring "Changing Landscapes: tourism + new media in Morocco" inspired by an advertising campaign I saw in the metro featuring locals and travelers. Goes to show that plans can change, and be open to opportunity. Of course I had to go to Morocco for my research. 😉
Re-entry into the real world
AKA I haven't applied for a job in 10+ years
When I graduated I had no idea what I wanted to do, but I'd learned that I enjoyed the flexibility of life as a grad student where I set my own hours, and could go swimming for inspiration (literally. My best ideas often come in the water.).
With several years of profession experience under my belt and a handy serving of naiveté, I decided to start a freelancing in design and communication. I quickly realized that running a business and navigating bureaucracy was not something they taught in school. I was stubborn, determined, and didn't have a back up plan.
I learned to think differently about what work is. US-based start ups helped me work differently too. Vayable gave me a platform to offer tours (a paid model of my free blog content along with a human connection; I now run them through NavigateParis.com), and Skillshare asked me to create a course that was travel inspired. I don't think I fully realized how much people love maps until I created that course. The community and enthusiasm around that course was unparalleled. I loved having students all around the world.
To this day, my blog remains my best business card, having my work published in various publications, and landing me big name clients like Louis Vuitton and Moët Hennessy for unlikely projects I never otherwise would have known existed. I also love working for smaller companies like La Cuisine Paris, or Hardware Club. And some of my best moments come from the 1-on-1 coaching time I get to spend with individuals and creatives helping them reach their goals.
I've shared many more stories on Prêt à Voyager and my business blog.
If you're still reading this far, I'd love to find a way to work together.
The blurb.
Need a blurb for an event? Here's a starting place:
Anne Stark Ditmeyer is an American creative coach and consultant based in Paris, France. She founded Prêt à Voyager (translation: ready to travel) in 2007 to explore the intersection of travel and design with the mantra "travel is not about where you go, but how you see the world." Anne has never been one to take the traditional path, and her work draws from graphic design, design thinking, UX design, storytelling, and global communication. She works with clients around the world.

WEEKLY NEWSLETTER
Connecting the dots between travel, design, and creative entrepreneurship, highlighting inspiration and ideas from around the world.
ONLINE COURSES
I have more than a dozen courses online that are very affordable. I'm also available for custom workshops and facilitation.
BIZ BLOG
True stories from my own business ventures, through lessons learned, and things I wish I learned in school.
WORK WITH ME
Whether you're looking to make sense of something, or need a creative burst, perhaps there's a way we can work together.
Shoot me a line at hello@anneditmeyer.com to see what we can make happen!
Please note that I do not accept sponsored posts or guest writers on my blog. You can find me on social at @pretavoyager and at the links below.